About us
We're an energetic and experienced team working together to building the future of banking. Say goodbye to complicated and slow processes - and hello to faster, fairer and more flexible banking options for Australians.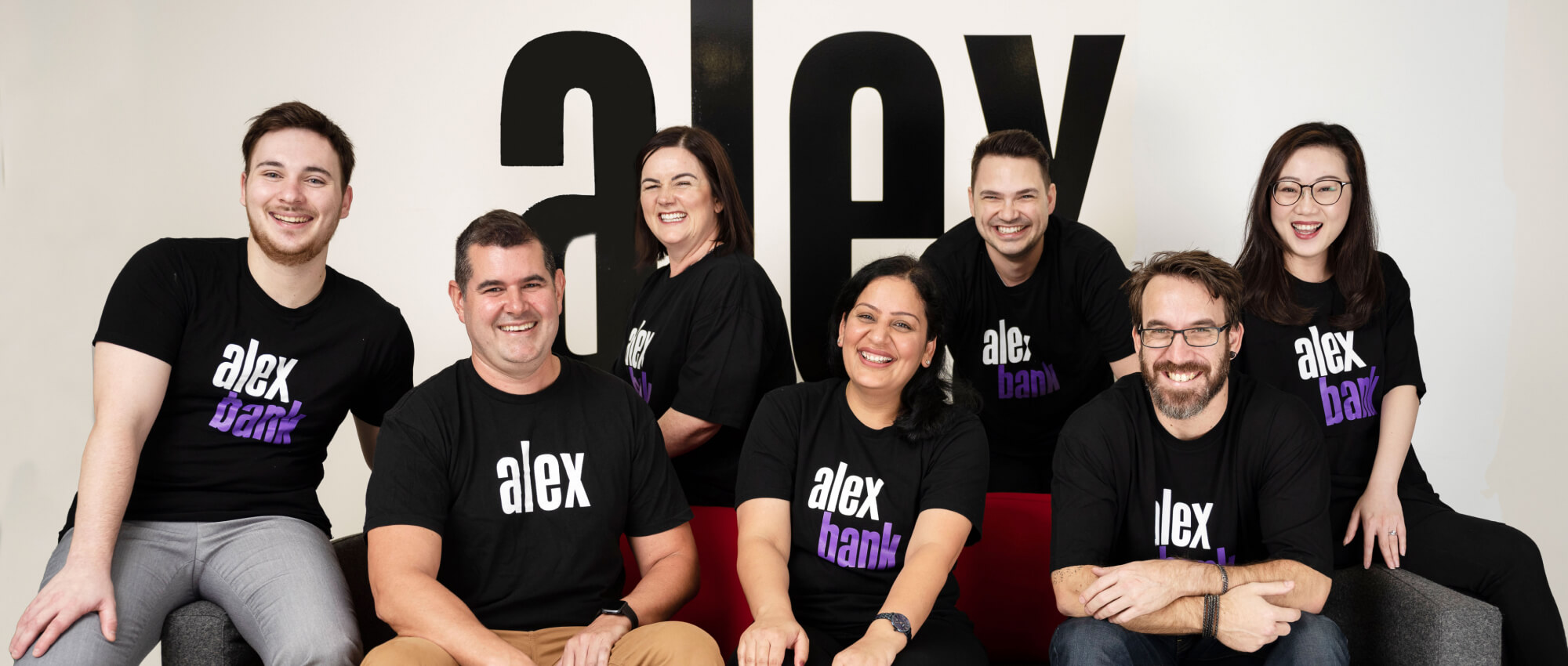 About Alex Bank
We're a digital bank built by an energetic team who have decades of experience inside traditional banks - meaning we've had a front row seat to what works, what doesn't, and what's possible.
So, we know we've got what it takes to build Australians a better banking experience, that's simple, easy to use and understand.
We're built from the ground up and not tied down by 'old banking ways'. Instead, we've built new ways, that make us more efficient, and saves our customers time, stress and pesky banking fees!
The future of banking
Australian's are demanding greater value, faster service, and more insightful tools to help them make better banking decisions.
We're on a mission to meet this need and build the future of banking.
Stay updated on our journey by following us on our socials. Or, if you're interested in helping us shape this future get in contact with us today.
What drives us
Our products and services will always be built around four key principles.
Fast
Our banking platform and processes leverage cutting-edge technologies. That means snappy applications, fast approvals, and a seamless digital experience.
Simple
Banking in Australia can be complex - but at Alex Bank we make it simple with easy to understand products, uncomplicated forms, and a 100% paperless process.
Fair
We're about easy to understand terms and fair market leading rates with no upfront or ongoing fees on our lending or deposit products.
Human
Don't be fooled by our fast technology and digital processes, we've got a whole team of real humans based in Brisbane and Sydney, working to provide you faster, fairer and more flexible banking solutions.
Our values
Our team is guided by five key values on our journey to always provide you with a better banking experience:
We believe customers come first
We are one team
We care
We go beyond
We are humble
Work with us
Want to join a team committed to building a better bank? A bank offering digital simplicity, true customer centricity and no legacy systems.
We are always on the look out for bright, energetic, high performers wanting to make a difference. The talent and skills of our team is broad, if you have skills that you think could help us build a better bank, we'd love to hear from you.